Knockout Stable Cell Lines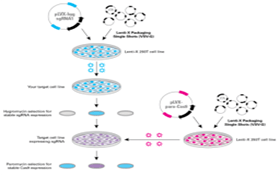 The CRISPR/Cas9 system has been developed as the most popular method for genome editing in recent years. The engineered CRISPR/Cas9 technology consists of a single guide RNA (sgRNA) and a human codon optimized Cas9 nuclease. The sgRNA recognizes the genomic target via standard Watson–crick base pairing and acts as a scaffold for binding of the endonuclease Cas9. Then Cas9 protein introduces site-specific DSBs in the target DNA sequences. Besides, in the phase of target recognition, the protospacer adjacent motif (PAM) adjacent to the 3' end of the DNA target site is indispensable. Finally, targeted mutations can be induced by nonhomologous end joining (NHEJ).
CRISPR-Cas9 is a genome-editing tool that is creating a buzz in the science world. It is faster, cheaper and more accurate than previous techniques of editing DNA and has a wide range of potential applications. Our scientists use the CRISPR CAS9 (CRISPR/Cas9) to knock out one or double genes to generate a KO cell line.
AcceGen is offering a series of gene knockout cell lines developed by the CRISPR/Cas9 system. These cell lines provide you with a convenient means to study gene functions. Use the Mutant Gene Nomenclature to search, if you cannot find the specific product in our database, AcceGen Custom Stable Cell Lines Service is committed to pave new ways to meet all your needs.
Search under Knockout Stable Cell Lines