Nervous System Primary Cells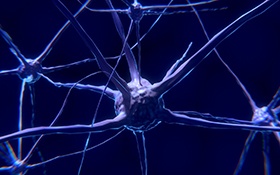 The nervous system is mainly composed of two types of cells: primary neurons and glial cells (also called neuroglia or glia), and divided into the central nervous system (brain and spinal cord) and the peripheral nervous system (autonomic and somatic nervous systems). The nervous system controls and regulates the activities of organs and systems through the feedback of neurons so that the body can respond to the stimulation of environmental changes. AcceGen isolates and offers a range of human neurons, neural cells, brain cells, cerebellar cells, and dendritic cells for primary neuron culture, also human astrocytes, microglial cells, oligodendrocytes, and Schwann cells for primary glia culture.
As a part of the sensory nervous system, human retinal cells, corneal cells, keratocytes, lens epithelial cells, trabecular meshwork cells, and other ocular cells are also isolated from eyes and provided for ocular system research.
AcceGen offers 59 different types of human primary cells associated with the nervous system isolated from different regions in the system.
| Cat.# | Name | Description | Price |
| --- | --- | --- | --- |
| ABC-TC148L | Human Dopaminergic Neurons (iPSC-derived, Normal) | Midbrain dopamine (DA) neurons are critical for directing fundamental brain functions such voluntary...more | +inquiry |
| ABC-TC065G | H9-derived Oligodendrocyte Progenitor Cells (OPCs) | Human H9-derived Oligodendrocyte Progenitor Cells (OPCs) are derived from NIH approved H9 human embr...more | +inquiry |
| ABC-TC136L | Human Corneal Endothelial Cell | The cornea is a transparent membrane located in the anterior wall of the eye and occupies about the ...more | +inquiry |
| ABC-TC135L | Human Choroidal Microvascular Endothelial Cells | The choroid is a part of the uvea, the vascular layer of the eye. Choroidal neovascularization (CNV)...more | +inquiry |
| ABC-TC133L | Human Retinal Muller Cells | Muller cells are an important type of mammalian retinal glial cells, which have the role of supporti...more | +inquiry |
| ABC-TC080L | Human Retinal Microvascular Pericytes | Human Retinal Microvascular Pericytes (HRMPVCs) were initiated by elutriation from dissociated norma...more | +inquiry |
| ABC-TC079L | Human Brain Microvascular Pericytes | Human brain microvascular pericytes (HBMVPCs) have many functions including a critical role in the f...more | +inquiry |
| ABC-TC002L | Human Cortical Neuron Cells | Human Cortical Neurons (HCN) originate from the healthy brain cortex of humans and are vital compone...more | +inquiry |
| ABC-H0027X | Human Neural Hindbrain Stem Cell | Human Neural Hindbrain Stem Cell is derived from donated fetal brain tissue. Tissue was procured fro...more | +inquiry |
| ABC-TC3732 | Human Oligodendrocyte Progenitor Cells | Human oligodendrocyte progenitor cells (OPCs) are a population of precursor cells found throughout t...more | +inquiry |
| ABC-TC3704 | Human Microglia | Microglia are a type of unique myeloid cells, reside in the parenchyma of the healthy central nervou...more | +inquiry |
| ABC-TC3973 | Human Dendritic Cells | Human dendritic cells (DC) are specialized antigen-presenting cells that play a crucial role in init...more | +inquiry |
| ABC-TC3969 | Human Astrocytes | Astrocytes are a subtype of neuroglial cells in the mammalian brain and spinal cord. With the typica...more | +inquiry |
| ABC-TC3838 | Human Trabecular Meshwork Cells | Trabecular meshwork cells (TMC) play an active role in the aqueous outflow mechanism. Specific recep...more | +inquiry |
| ABC-TC3793 | Human Schwann Cells | Schwann Cells (SC), also called neurilemma cells, reside in the Peripheral Nervous System (PNS) of a...more | +inquiry |
| ABC-TC3791 | Human Retinal Pigment Epithelial Cells | Human retinal pigment epithelial (HRPE) cells are isolated from human retinal pigment tissue with th...more | +inquiry |
| ABC-TC3731 | Human Oligodendrocyte Precursor Cells | The precursor cells for oligodendrocytes were first discovered in 1993 by Raff, Miller and Noble and...more | +inquiry |
| ABC-TC3722 | Human Neurons | Human neurons (HN) mainly reside in central nervous system, but also distribute in multiple other pa...more | +inquiry |
| ABC-TC3720 | Human Neural Cells, Uncultured | Human neural cells are derived from whole brain that is quickly dissociated into single cells and fr...more | +inquiry |
| ABC-TC3663 | Human Keratocytes | Isolated from human corneal stroma, Human Keratocytes (HKs) are also known as corneal fibroblasts. H...more | +inquiry |
Search under Nervous System Primary Cells