Knockin Stable Cell Lines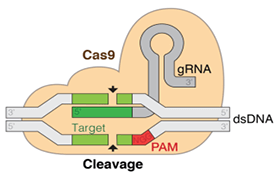 CRISPR/Cas9-induced site-specific DNA double-strand breaks (DSBs) can be repaired by homology-directed repair (HDR) or non-homologous end joining (NHEJ) pathways. Extensive efforts have been made to knock-in exogenous DNA to a specific genomic locus via the HDR pathway in mammalian cells.
As an experienced company in cell engineering, AcceGen provides reliable, affordable, and fast knock-in cell line generation service, which includes gRNA/donor DNA construction, engineered cell line generation, and PCR sequencing.
Our experienced scientists have working with various cells ranging from easy-to-transfect cell lines (tumor cell line) to hard-to-transfect cells (primary cells). So, we can provide high-quality knock-in cell lines to meet your requirements.


Search under Knockin Stable Cell Lines