Overexpression Stable Cell Lines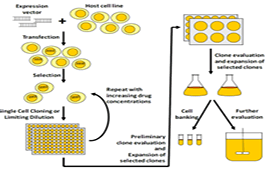 Overexpression cell lines have been widely used in biology research, such as protein engineering, recombinant antibodies development, drug discovery, and other researches. The gene of your interest will be integrated into the host cell after transduced, and permanently pass to next cell generation and express some protein of interest.
AcceGen provides the stable expression of a gene of interest (GOI) by plasmid transfection or lentivirus transduction. The reason we usually use lentivirus to infect cells is lentivirus with broad tropism can target most mammalian species and cell types. We can provide service from strategy design, suitable vector construction, virus packaging, virus transduction to positive clone selection.
Search under Overexpression Stable Cell Lines