Custom Stable Cell Lines
AcceGen Biotech

has developed the proprietary

ASCTM

Stable Cell Line Services for research application. We have access to a range of technologies and an expert team experienced at working with a variety of cell lines, including adherent and suspension cells. AcceGen Biotech provides one stop solution to all your gene editing services to engineer target cell lines for knockout, knockin, knockdown, reporter and overexpression. With our custom service, you can get our
high-
quality customer service experience with high success rates, frequent communication, and fast, reliable timelines. Stable cell line is an important research tool for pharmaceutical drug discovery, compound screening and gene therapy research.

Stable Cell Line Service Includes:
✔ CRISPR Knockout Cell Lines

✔ Knockdown Cell Lines

✔ Knockin Cell Lines

✔ Overexpression Cell Lines

✔ Reporter cell lines (luciferase, GFP, RFP, YFP)
Workflow
Construct generation

* Construct your gene of interest into either a suitable mammalian expression vector or a lentiviral vector followed by producing high titer lentivirus.

Stable cell clones selection

* Perform transfection or transduction on target cells and select stable cell clones.

Gene expression evaluation

* Evaluate the gene expression in stable cell clones via one or several assays such as Western Blot, ELISA, qPCR, or reporter assays etc.

Key Features:

▶ One-stop-solution
▶ Fast turnaround time and end-to-end services
▶ High quality and proprietary technologies
▶ Professional technical support
▶ Cost-effective
How It Works
Step 1. Contact the customer service for a quote by emailing info@accegen.com.
Step 2. Send us the parent host cell lines (optional).
Step 3. Receive your stable cell line (The turnaround time depends on the project).
Supporting Data
Successful generation of a KO cell Line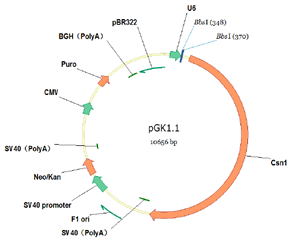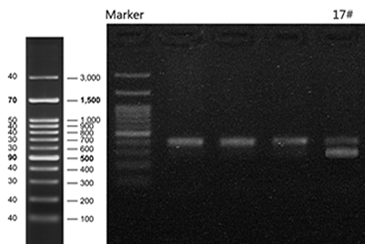 AcceGen Biotech has unique experience with more than 200 cancer cell lines, highly efficient gene delivery technologies, as well as the research expertise to produce stably expressing clone cells. We recognize that providing fast delivery of products and services is critical to expediting research. We are committed to meeting your timely needs while maintaining high quality and integrity.
AcceGen Biotech's Transfected Stable Cell Line Database has already contained over 40,000 Reporter Cell Lines, Knockdown Stable Cell Lines, Knockout Stable Cell Lines, Overexpression Stable Cell Lines and Knockout Cell Lysate for worldwide cell research. However, if you can't find the needed stable cell line in our catalog, please send us the details of your project to info@accegen.com or call 1-862-686-2696, we will be glad to provide the custom cell line information and price quotation within 24h.
To request a quote or additional information, please fill out the form below and we will contact you in 24 hours.
Privacy Policy: AcceGen will never sell, rent, or share your personal information with any third parties without your express permission.